Discover more from Race and Coronavirus
A newsletter and podcast exploring the effects of the coronavirus crisis on minorities and immigrants in the United States
COVID-19 and essential workers: the numbers, the toll, the stories of those who can't stay home
Plus a perspective: Time to care for Filipino health care workers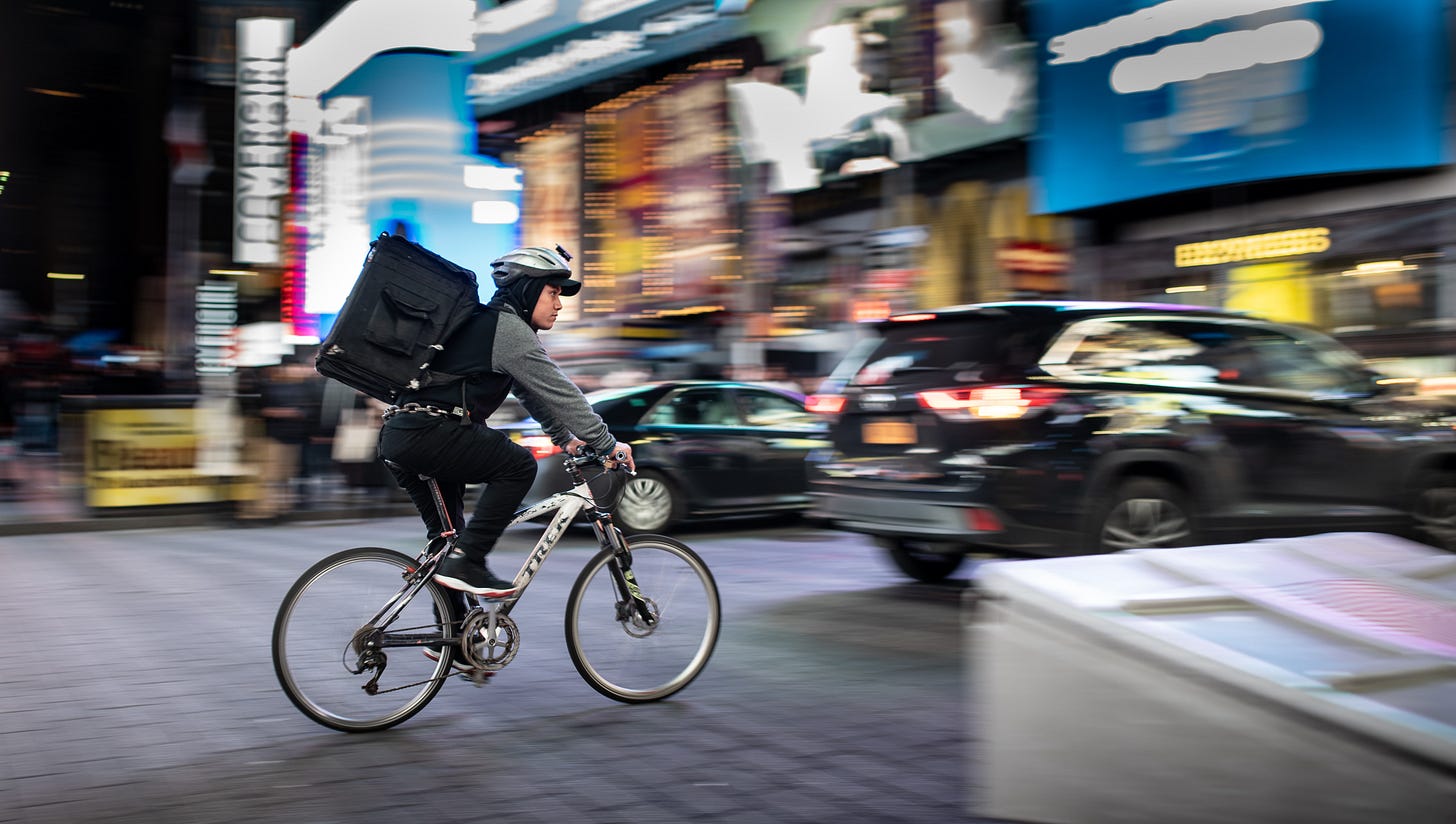 A delivery worker in New York City. (Brett Jordan/Unsplash)
---
In this week's podcast, we talked essential work with U.S. Rep Ro Khanna, plus gig workers Vanessa Bain and Jon Wong.
---
The pandemic's toll on essential workers
By Levi Sumagaysay
Many people who still have jobs are working from home during this pandemic. But not the cashiers who ring up groceries, nor the gig worker couriers who deliver them if customers order online instead. Not hospital and nursing home staff. Not janitors and security guards. Not farm and factory workers. Essential workers are still out there doing their jobs every day — and the push to reopen businesses could put them in even more danger as more people get back out there.
Some front-line workers have already paid a heavy price. An Instacart grocery delivery worker is on a ventilator in San Francisco, the company confirmed to Race and Coronavirus. Grocery store workers are getting sick, and have died in San Jose, Pasadena and elsewhere. Health care workers are dying, too.
Vanessa Bain, a Bay Area resident who stopped working for grocery delivery app Instacart in March, couldn't afford to risk her loved ones' health. She helps care for her three grandparents who are in their 70s, 80s and 90s, she said on the Race and Coronavirus podcast. 
"It's not possible for me to work safely, especially when I potentially can transmit (COVID-19) to them," she said. Bain continues to organize other workers, and helped stage an Instacart shopper walkout in March to demand hazard pay and extension of sick pay, which the company is offering to only its independent contractors who are diagnosed with or quarantined because of the novel coronavirus. She mentioned the San Francisco Instacart shopper who contracted COVID-19 and is on a ventilator, saying he was initially denied benefits by the company. 
Instacart said in a statement to Race and Coronavirus that it is now providing that shopper with benefits, but would not provide further information. "Our hearts go out to Alejandro's family and loved ones during this challenging time — the entire Instacart team is wishing him a safe recovery. Our team has been in direct contact with his family to offer support through our extended pay financial assistance program."
Among the many shortcomings in our economic system the coronavirus crisis has exposed, is "that we don't have an adequate social safety net, not just for independent contractors, but for employees as well," said William Gould, professor emeritus at Stanford University and a former chairman of the National Labor Relations Board. Even some employees with benefits have inadequate sick leave, he said, pointing out that a few days of leave are not enough for someone with COVID-19, who often has to quarantine for 14 days. And many essential workers are minorities or immigrants, according to different surveys and studies. 

"Recognizing that communities of color are disproportionately impacted," the National Council for Occupational Safety and Health recently released recommendations for worker safety in its report, "A Safe and Just Return to Work," said Jessica Martinez, co-executive director of the organization. The report calls for health and safety protections, inclusion of employees and unions in planning a return to work, screening, testing, contact tracing, isolation and epidemiological surveillance, and more.
Martinez added that "many workers in most high-risk, low-wage jobs also have a tremendous fear of retaliation and are fearful of government agencies, especially (under) the current administration." It's important that government agencies are enforcing safe workspaces, especially now, she said.
One of the provisions U.S. Rep. Ro Khanna, a Democrat who represents parts of Silicon Valley, is pushing for in the Essential Workers Bill of Rights, which he co-wrote with Sen. Elizabeth Warren, D-Massachusetts, is that the Occupational Safety and Health Administration be required to issue an Emergency Temporary Standard to keep workers safe. The congressman said on the Race and Coronavirus podcast that he was most hopeful that safety requirements would be part of the next stimulus package.
"I think right now everyone can agree that at least workers have to have basic safety," Khanna said. "Why would you want to have people go to work where they may get exposed to a disease?"
Are other worker-friendly policies possible, even during a time when tens of millions of people are out of work? Catherine Fisk, a professor at UC Berkeley who teaches labor and employment law, thinks so. "In the 1930s, last time we faced unemployment numbers as high as they are right now, state and federal governments enacted a wide array of employee protective measures because the public realized that the particular version of capitalism that resulted in the Great Depression wasn't working and needed modification," she said.
Another gig worker, Jon Wong, said on the podcast that he has cut back on doing food deliveries for DoorDash-owned Caviar in California because he's concerned about the risk. He's down to about 10 to 15 hours from his usual 20 to 30 hours a week. 
"Thankfully, I have a full-time job and this is just a side gig," Wong said. "I can't imagine those who have this as their sole or main gig. How do they weigh the benefits? They don't have the luxury of taking an extra hour or two off (a day) that I do."
Companies that employ gig workers consider them independent contractors. They have no minimum wage and no benefits. Assembly Bill 5, a new California law that would likely force companies to classify gig workers as employees, could change that. The state recently sued Uber and Lyft for non-compliance with AB 5, in a case that has implications for other companies whose business models are based on minimizing labor costs by hiring contractors.
"I am hoping it is the beginning of the end for predatory practices of the gig companies," said Edan Alva, a Bay Area Lyft driver who helps organize workers. He stopped driving in April as rides dried up and to avoid the health risk. "By the time I stopped I was earning $5 an hour," he said.
---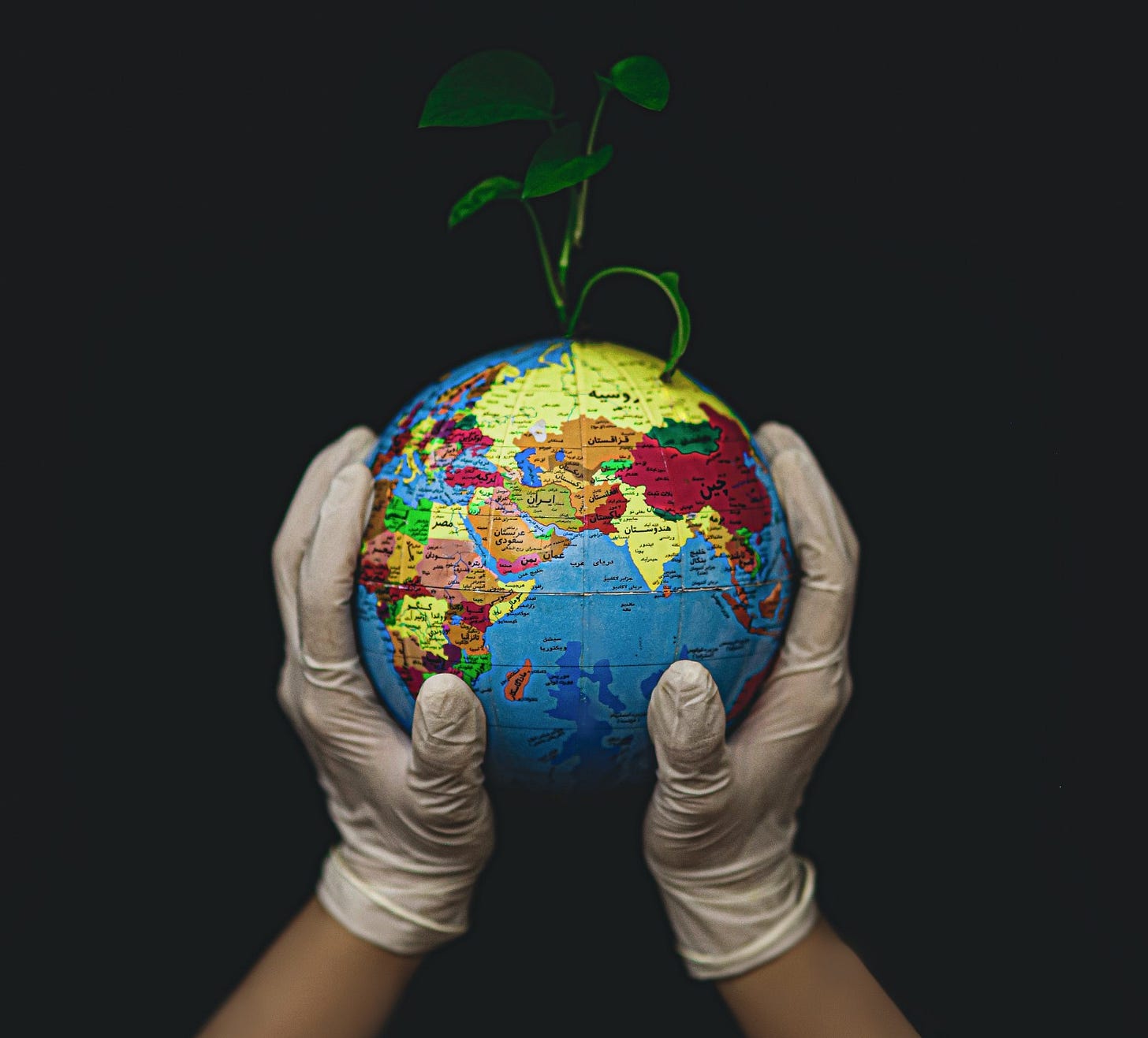 (Unsplash)
Perspective
Little care for immigrant caregivers
By Pati Navalta
I didn't get the health care worker gene. It's a fact that's most glaring during our family gatherings, which often includes three certified nursing assistants, a licensed vocational nurse, one CT technician, two registered nurses, a case manager, a nurse practitioner, an interventional pulmonary technologist, and a dialysis technician.
This is not uncommon in many Filipino families, where working in the health care industry is ingrained in the culture, stemming from the 1900s. At the time, the Philippines was a U.S territory and the U.S. Army was in need of caregivers. The Army began training Filipinos to provide this care, and eventually offered an American nursing curriculum and English lessons. Today, the Philippines exports more professionally trained nurses than any other country in the world, Catherine Ceniza Choy, author of "Empire of Care: Nursing and Migration in Filipino American History," told ProPublica.
It's no surprise then that in this global pandemic, many of the people on the front lines are Filipinos — and that the devastating toll on health care workers has hit Filipino Americans especially hard. Consider the following:
For Filipinos, securing a job in the health care industry in America is not just a promise of a better life for them, but also for their family members left behind. In fact, remittances sent by overseas workers account for almost a tenth of the Philippine economy. In 2019, Filipino overseas workers sent $35 billion back to the Philippines. This pressure to be a major — and in some cases, sole — provider for their families is often the reason they agree to work longer hours, even when it means not being provided with personal protective equipment (PPE) and putting themselves at risk.
At 73 years old, my mom has long been retired. She began working as an in-home caregiver out of boredom, then out of a sense of obligation, using the extra money she makes to send large boxes of towels, linens, clothing, and canned foods to her siblings, nieces and nephews in Sarangani, a rural province in the Philippines — a country that had been suffering from a shortage of nurses even before the pandemic hit. With the coronavirus, this shortage has only been exacerbated. She, along with many of my other family members in the health care industry, has continued to care for others with little to no PPE to arm themselves with.
This pandemic has laid bare how reliant the United States and other developed countries have become on the care of immigrants. It has exposed a system where health care workers are brought from poorer countries to richer ones, lured by the promise of a better life, but faced with the realities of governments ill-equipped to handle the pandemic. 
"Without the immigrant population right now serving in health care, the majority of these health care industries would probably collapse," Leo-Felix Jurado, the chair of the Nursing Department at William Paterson University in New Jersey, and executive director of the Philippine Nurses Association of America, told The Atlantic.
There was a glimmer of hope on May 15, when the U.S. House of Representatives narrowly passed H.R. 6800, the Health and Economic Recovery Omnibus Emergency Solutions Act (HEROES Act), which includes increasing workplace safety for health care and other workers through emergency OSHA standards. Specifically, it would require OSHA to issue emergency temporary standards for employers to protect paramedics, emergency medical service workers, employees in the health care sector and any other worker at "occupational risk of exposure" to COVID-19. It would also require a comprehensive infectious disease exposure control plan to protect health care workers from exposure to COVID-19, and would prohibit employers from retaliating against employees who report health and safety hazards. 
The bill will face major challenges in the Senate, where Republicans have already declared it "dead on arrival." This call to protect health care workers must pass. The U.S. government has a moral obligation to care for immigrant health care workers, who for decades, have not just provided care for the country, but for the world. 
---
The bright side
The door has just opened to a $125 million coronavirus relief program for undocumented immigrants in California, but luckily immigrant workers in Oakland have had a lot of help in the meantime.
Oakland-based Street Level Health Project is a community center located in the city's Fruitvale district that has been providing bags of fruit, vegetables and other food on a weekly basis to the neighborhood's low-wage immigrant workers during the pandemic. Many of the workers are undocumented day laborers, who have not been able to file for unemployment and were excluded from receiving economic relief from the CARES Act. 
Alameda County Community Food Bank provides the center with its weekly supply of food. In addition, the center provides financial support to the laborers through its COVID-19 Emergency Fund, and hotlines that provide the latest information on COVID-19 and enrolling in the CalFresh food stamp program.
---
Coming up
We take a look at the impact of this crisis on immigration in a podcast with Alida Garcia, vice president of advocacy at FWD.us, and a Q&A with journalist and activist Jose Antonio Vargas.
---
Let us know what you think: editors@raceandcoronavirus.com. 
For business and media inquiries, email info@raceandcoronavirus.com.
Follow us on Twitter, Facebook, Instagram or LinkedIn.
Partner of Bay City News Foundation, which publishes free local news at LocalNewsMatters.org.