Discover more from Race and Coronavirus
A newsletter and podcast exploring the effects of the coronavirus crisis on minorities and immigrants in the United States
Coronavirus and Latinos: How promotores can help
Plus: Jane Fonda, others call for protections for essential workers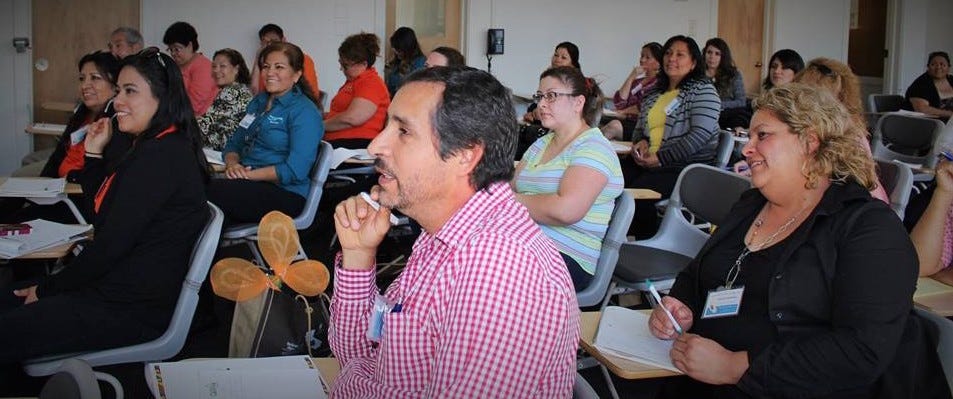 A promotores training class. (Vision y Compromiso)
---
In our latest podcast, Maria Lemus, executive director of Vision y Compromiso, talks about how promotores and community health workers are trying to help the Latino community during the coronavirus crisis.
---
Supporting Latinos in the time of COVID-19
By Pati Navalta
For months, Maria Lemus had been watching headlines about the growing number of COVID-19 cases among the Latino population in the United States. The numbers have been particularly staggering in California, where Latinos make up 39% of the population, but 55% of the coronavirus cases and 42% of the deaths.
But when her 23-year-old nephew contracted the virus, her family's frustrating experience with the health care system underscored what Lemus knew all along. The real issue in the Latino community isn't just about numbers, it's about navigating a system that, for many in the population, leads to dead ends — namely because of fear, lack of resources, language barriers, and misinformation.
That's where Visión y Compromiso comes in.
The national organization promotes community and well-being through training and support of promotores and community health workers. And though the organization has existed for two decades, Lemus says the pandemic has shown how crucial its services are in reaching the most vulnerable and underserved Latino communities.
The backbone of the organization is its promotor model, made up of nearly 5,000 promotores in California who serve as liaisons between their communities and health and social service providers. Currently, the network spans 13 regions in California, one region in Mexico, and has community networks in Washington, Oregon, Colorado, Nevada and Arizona.
Lemus says the concept is nothing new, they just found a way to harness and mobilize the people in it.
"The person who we call promotor has existed in our communities and in our families, I say since Eve was a grandmother," Lemus said in a Race and Coronavirus podcast. "It's always that person who's central in the family, the one who is helping in the community, who's helping their immediate family, who is the resource for the neighborhood. That person exists in every community."
Through Visión y Compromiso, promotores go through a comprehensive training program that covers issues such as advocacy and leadership, communication skills, mental health, dance therapy, nutrition, heart health specific to Latinos, reproductive health, and suicide prevention. With COVID-19, however, much of their focus has pivoted toward distributing information about the coronavirus and helping to navigate resources.
Numerous factors have led to increasing infection rates among Latinos: a high number of essential workers and multifamily or multigenerational households that make it impossible to self-isolate; and fears of being deported, which prevents undocumented workers from participating in contact tracing or even going to the hospital. This, on top of health barriers that already existed among Latinos before the pandemic, including lack of transportation, lack of insurance, and distrust, according to CREA Results, a Latino research and resource center.  
"I think there's always a mistrust in our immigrant communities about where that information is going, especially when the federal government threatens to use it in different ways," said Lemus. "Part of what we've been encouraging for the last few months is that they integrate promotores and community health workers as part of contact tracing teams because we're trusted in the neighborhood. We're more likely to access more people. … We haven't seen them move in that direction yet, but we continue to advocate for that."
Because promotores work in the communities they're from, people in the neighborhood are more likely to already know and trust them, as opposed to outside health providers. Language and economic barriers are also eliminated with a promotore since they are fluent in Spanish and provide health and wellness information and services for free or at a discounted rate.
This broadens the reach to people who are denied access to services, such as undocumented immigrants who are not eligible for Medicaid or insurance under the Affordable Care Act, and were not eligible for financial assistance through the CARES Act, a $2 trillion federal relief package, leaving them more vulnerable to food insecurity, lack of health care, and resources needed to protect themselves from getting infected with or spreading COVID-19.
Though testing has increased in some areas with high Latino populations, the main challenge now is after someone tests positive, says Lemus.
"If we go out and we do contact tracing and we are able to figure out the path and who's infected, the ethical question is where are the resources for them?" she said. "If I ask you, 'Have you been exposed and will you be tested?' and you test positive, is there a place where you can test? And then if you test positive and if you become sick, is there a resource for you? If that doesn't exist in your community, then you're not likely to do that because you already know it doesn't exist."
For now, Lemus is focused on advocating for more partnerships with health care providers who can benefit from their growing network and who can leverage the trust they've garnered in Latino communities nationwide.
"We say that [we're] an army in California ready to be deployed to help," she said. "We haven't been asked to do that yet, but we continue to offer and to be part of the solution."
---
Jane Fonda, others advocate for essential workers
By Levi Sumagaysay
Jane Fonda is bringing star power to the call for protections for essential workers.
The award-winning actress and longtime activist has teamed up with U.S. labor unions and other groups to shine a light on the plight of front-line workers during this pandemic, and are urging the public to put pressure on the U.S. Senate to pass the HEROES Act. The alliance on Tuesday released "In Memoriam," a short video tribute to health care workers, bus drivers, mail carriers, food packers and others who have died of COVID-19. 
"We envisioned a video as a way to both honor the deceased and a way to hopefully move our elected officials to do more to protect our essential workers who are continuing to risk their lives and their families' lives to make our lives possible," Fonda said during the livestream of the event, during which people who have lost family members also spoke.
The Health and Economic Recovery Omnibus Emergency Solutions (HEROES) Act, which the Democrat-controlled House passed in May, would among other things provide workplace protections many essential workers are lacking. The Republican-controlled Senate has yet to pass it.The alliance this week also called for funds for personal protective equipment, paid sick leave, full health care coverage and more. 
Fonda (founder of Fire Drill Fridays) and the other groups involved in the campaign — Greenpeace, MoveOn, the National Council for Occupational Safety and Health and the Labor Network for Sustainability — implored people to call their senators and share the video with them. 
In a Q&A with the press after the video's debut, Fonda said public pressure has helped put much-needed provisions in the stimulus packages passed so far, and that "we want tens of thousands of people … to send the video to Congress."
Essential workers are disproportionately made up of minorities and immigrants. For example, in the Bay Area, 58% of all workers are people of color, but comprise 66% of essential workers, according to an analysis of Center for Economic and Policy Research data.
For more on the campaign, including a list of the essential workers who have died after exposure to COVID-19, click here.
---
Coming up
An interview with Kristin Urquiza, whose obituary for her father went viral after she blamed politicians for contributing to his death from the coronavirus. And we will discuss what we've learned after nearly three months of covering this pandemic through the lens of race and inequality. 
---
Let us know what you think: editors@raceandcoronavirus.com. 
Follow us on Twitter, Facebook, Instagram or LinkedIn.
Partner of Bay City News Foundation, which publishes free local news at LocalNewsMatters.org.