Discover more from Race and Coronavirus
A newsletter and podcast exploring the effects of the coronavirus crisis on minorities and immigrants in the United States
Education: Climb in COVID-19 cases raises new questions about coming school year
Plus: Will affirmative action make a comeback in California?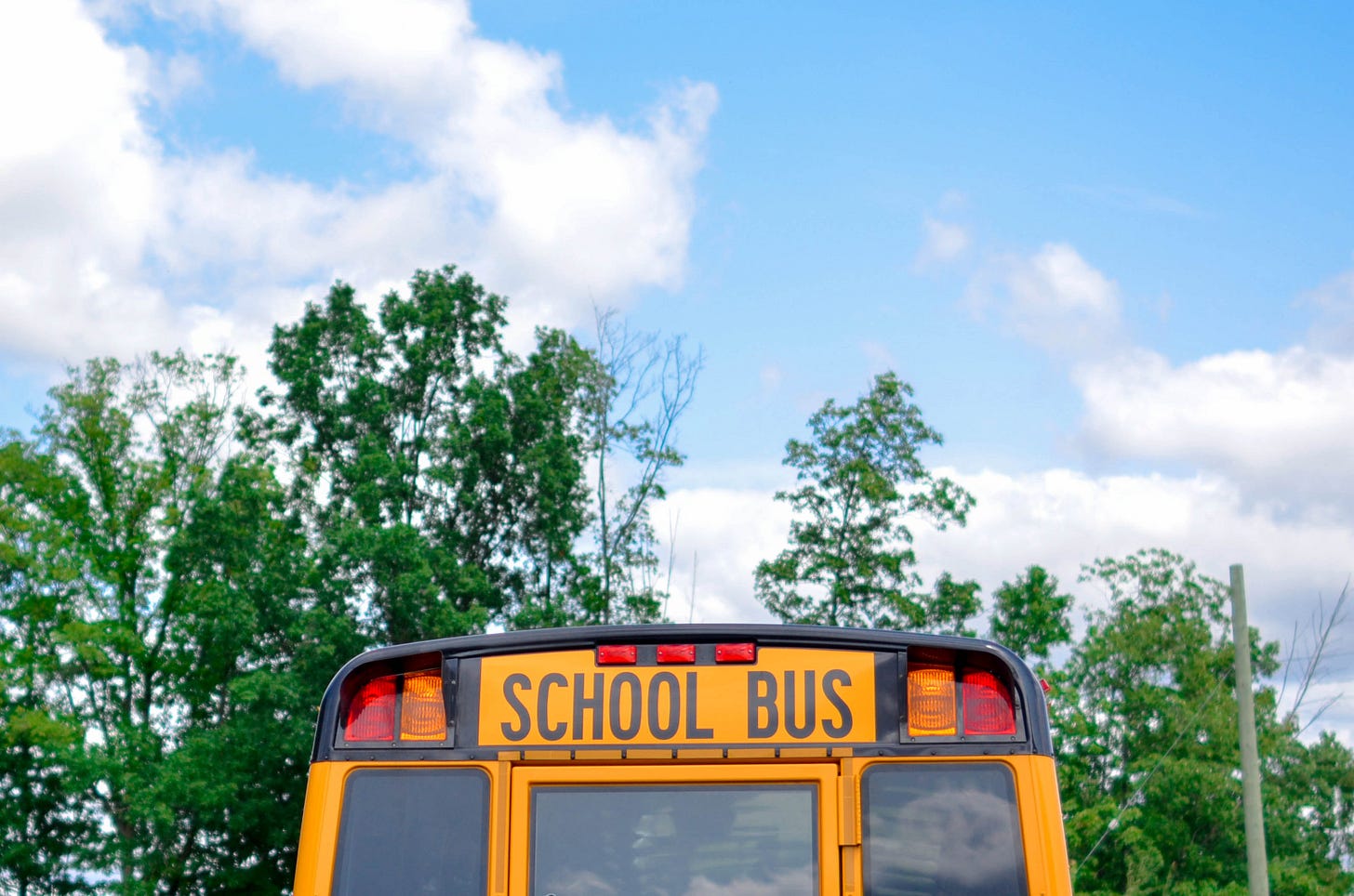 ---
In this week's podcast, we discuss education and the coronavirus crisis with Dr. Elisha Smith Arrillaga, executive director of The Education Trust-West, and Cole Margen, history teacher at Oakland High School.
---
Distance learning, inequity and other worries remain ahead of uncertain school year
By Levi Sumagaysay
Summer break is far from over, but COVID-19 has everyone already worried about next school year. 
Students wonder whether they are going to be physically going back to school and seeing their friends. Parents are anxious about their children's health if they do return to the classroom, and concerned about how much they will actually learn. Educators are thinking about all of the above — plus achievement gaps.
"The thing I'm worried about is, Black and Latinx kids being more left behind by this education system, which was already set up not to be advantageous to them, but then even more so in this time," said Cole Margen, who teaches immigrant students U.S. and world history at Oakland High School, in a Race and Coronavirus podcast. 
As schools were forced to switch to distance learning during the shelters in place that started in March, long-standing disparities in education became more apparent. The digital divide persists. Some students rely on free meals that school districts provide. For different reasons, it's not easy for some students to do their schoolwork at home. All those concerns are going to carry over to the coming school year, especially as coronavirus cases rise in California and elsewhere.
"My friend … pretty much always struggled at home because she always has to take care of her four younger siblings," said Ariana Lea, 16, who will be a junior at Bethel High School in Vallejo this coming school year. As for herself: "I didn't have my own personal laptop. I would wake up early to go with my mom to work so I could use her laptop." She had a school-issued iPad, but she found "many things," including Bluetooth, were blocked or inaccessible on those devices. And although other students were issued Chromebooks, Lea said she never got an announcement about checking one out. After the school year ended, her mom was able to buy her a laptop that she can use when school resumes.
Worries about students' access to technology extend to their access to broadband. In California, nearly 22% of households are not connected or under-connected to the internet, according to a report published in June, which also found that Latino households are 21% less likely to have home internet access than white households. In Oakland, neighborhoods with predominantly Black residents are subjected to what the authors of the report called digital redlining.
"Competition and fiber-based services are less widely available in low-income areas and communities of color, with the most severe deficits observed in census block groups that combine poverty and a large percentage of Black residents," said the report by Greenlining Institute, an Oakland-based nonprofit that advocates for racial and economic justice.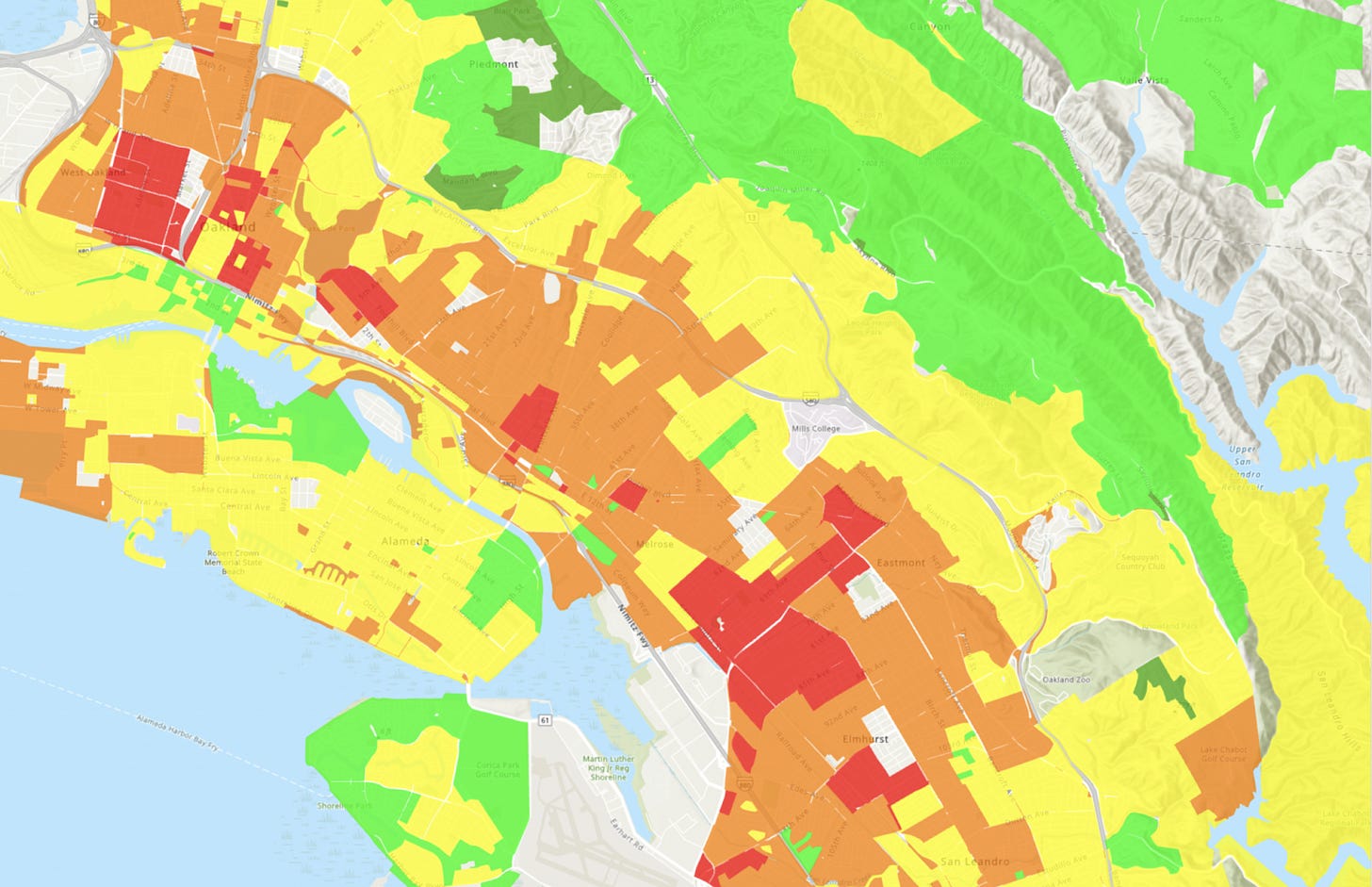 Map of Oakland from the Greenlining Institute
Green and Light Green: Fast internet speeds, near universal internet adoption and internet costs are inconsequential relative to household income (Middle-class household income set at $97,000. This figure has been updated by the Greenlining Institute).

Yellow: Average internet speeds, mid to high levels of internet adoption and internet costs are reasonable relative to household income.

Orange and Red: Below average internet speeds, low internet adoption rates, and internet access costs are a large burden relative to household income.
Students coped differently during an unprecedented time, which was compounded by George Floyd being killed by Minnesota police and the widespread protests that followed.
"COVID and Black Lives Matter … it was really weighing on me," said Lea, who is Hispanic and wanted to go to the protests but whose mom feared for her safety.
Teachers were concerned about students' mental health. "It's harder for some students when the only trusted adults they have are at school, and school is a safe space for them," said Jeannette Ramos, an English teacher at Bethel High.
Geordan Arenal, who teaches math at Bethel High and coaches football at Las Lomas High School in Walnut Creek, said he saw a contrast in how some students were coping because the Vallejo school district adopted a more holistic approach and was concerned about students' overall well-being during the lockdown. 
At Las Lomas High, "academic content was the priority and not the person," Arenal said. "A lot of my players were stressed about it."
Arenal, Ramos and Margen all said the students who did well in class pre-pandemic were the ones who logged in consistently during distance learning — which means it was hard for them to help the ones who were already having trouble academically.
Meanwhile, some students (or their parents) lost their jobs because of the novel coronavirus, or their families were struggling financially. "Students who had more financial need didn't show up," Arenal said. "I know some of them were working. A student I know, her contractor dad was taking her to work."
As for next school year, there's good news and bad news in the state budget signed by Gov. Gavin Newsom this week. 
The bad news first: It includes cuts to higher education, which could exacerbate the worries of 75% of California college students who said in a recent survey by The Education Trust-West in Oakland — which focuses on collecting data to help drive equity in education — that they were worried about staying on track to graduate because of the pandemic.
The higher education cuts are also a concern because "the enrollment rates for community colleges tend to increase during periods of economic downturn," said Elisha Smith Arrillaga, executive director of The Education Trust-West, on the podcast. "And we're already seeing that as the case here in California." She added that she was also concerned about how cuts to higher education could affect partnerships between colleges and K-12 schools.
"Moments like this are actually when we can innovate and do things differently, or do more of those kinds of things that we know work," such as dual enrollment, she said.
The good news is that the state budget avoids cuts to K-12 education, one of the only certainties about the coming school year. 
Students might return to the classroom full time, or perhaps just a couple of days a week, which the teachers said would be a welcome development.
"In that case, it will be a lot easier because I will be seeing them physically sometimes," Margen said, something Arenal and Ramos both agreed with. "We'd get to the kids who need to be in the presence of a teacher," Arenal said.
"Either way, it's a shift in how we teach," Ramos said, adding that teachers would have to plan differently for distance learning combined with in-classroom instruction. 
Parents have no idea what's going to happen, either, and have conflicting feelings about the possibilities.
If Summer Jimenez's two children, who are going into the eighth and 12th grades, have to stay home from their American Canyon schools in the Napa school district, "it'll give me peace of mind," she said. "The spikes (in COVID-19 cases) are scary." But she acknowledges that her son and daughter are at the ages where they don't bother her while she works at home. 
Ed Lee, of Campbell, in the South Bay, has two sons going into first and seventh grades. Because they're fairly young, he's not as concerned about the effects on their learning because he thinks they will have time to catch up. He's mostly worried about their social and mental well-being, he said. He wants them to see their friends at school and is hoping they can go to school when it's safe.
"A month ago I couldn't wait for school to start," Lee said. "I thought things were safe and numbers were great. Now I feel I don't know."
Neither does Sara Cody, public health director for Santa Clara County, who reportedly said at a press conference Tuesday that "whether schools can reopen for in-person instruction depends on the containment of COVID-19 in the months to come."
---
The bright side
Trump era inspires calls for affirmative action in California
By Pati Navalta
In the face of the Trump administration's weaponization of COVID-19 to carry out its anti-immigration agenda, and in the midst of a national reckoning on racial injustice across the country, California's state Senate recently passed a proposal to repeal California's ban on affirmative action. If passed by voters, it will be the first time since 1996 that colleges and government employers can take race into consideration during admission and hiring, lifting the decadeslong ban on affirmative action. 
In California, admission rates for Black and Latino students have dropped since the ban, according to data from the California Department of Education. According to a report in The Guardian, in 1994, admission rates for Black students who applied to UC schools were 6 percentage points below the average admission rate for all students; Latinos were admitted at higher than average rates. Today, UC admission rates are 16 points below average for Black students, and 6 points below average for Latinos. 
"I think that bill was able to move through because of the power of this moment that we are currently in," Elisha Smith Arrillaga, executive director of The Education Trust-West, said in a Race and Coronavirus podcast. The proposed amendment, known as ACA 5, will be on the ballot for voters to decide in November.  
---
Coming up
We will address the impact of the coronavirus crisis on politics, including in a podcast with She the People founder Aimee Allison.
---
Let us know what you think: editors@raceandcoronavirus.com. 
For business and media inquiries, email info@raceandcoronavirus.com.
Follow us on Twitter, Facebook, Instagram or LinkedIn.
Partner of Bay City News Foundation, which publishes free local news at LocalNewsMatters.org.