Discover more from Race and Coronavirus
A newsletter and podcast exploring the effects of the coronavirus crisis on minorities and immigrants in the United States
Coronavirus, police killings and race: What's tech got to do with it?
Plus: Edward Snowden on surveillance, immigration policy news and more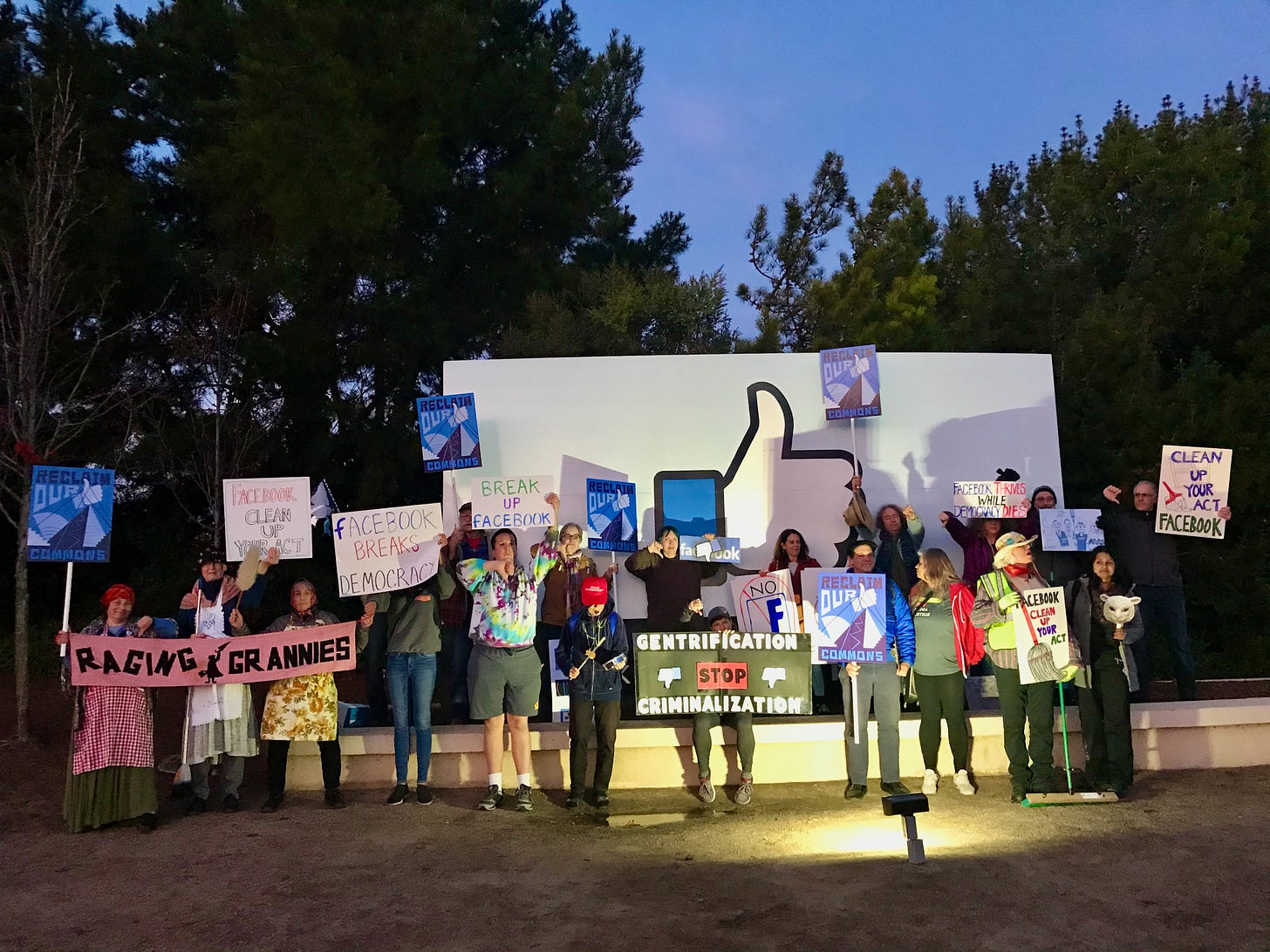 A protest at Facebook headquarters in Menlo Park in January 2020 over the company's refusal to fact-check political ads. (Levi Sumagaysay)
---
In this week's podcast, we spoke with Rashad Robinson, president of Color of Change, a national civil rights advocacy group that has long pressured Facebook to improve policies that affect African Americans and other minority groups.
---
Tech's role in the COVID-19 response — and racial injustice
By Levi Sumagaysay
Until the release of the video of the Memorial Day killing of George Floyd, a Black man, by Minnesota police officers set off widespread protests and a chain of events that have sparked a reexamination of racism in this country, the tech industry had been enjoying a brief moment of redemption early on during the COVID-19 crisis.
People realized (some for the first time) that they could work from home. As much of the nation closed down and Americans were ordered to shelter in place, they kept in touch on social media and on Zoom calls for business and pleasure, and got their groceries and household goods delivered by Instacart and Amazon.
Russell Hancock, president and CEO of Joint Venture Silicon Valley, told me in an interview in April: "It turns out we need tech. Tech is making it all possible, the economy such as it is."
But it didn't take long for the criticism of tech to resurface: the way it can spread misinformation and amplify hatred, its immense power, its lack of diversity, the perils of surveillance. 
And with technology front and center in the response to two pandemics this nation is facing — COVID-19 and the killing of Black people at the hands of police — civil rights advocacy groups are worried and pushing tech companies to do better. Facebook, for example, is now facing an ad boycott by high-profile companies Ben & Jerry's, Patagonia, REI and others after the NAACP, Color of Change and other advocacy groups started a campaign called Stop Hate for Profit. 
The Silicon Valley company did not respond to a request for comment about the boycott, which is set to happen throughout July.
When President Donald Trump responded to the protests by saying "when the looting starts, the shooting starts," Twitter hid the tweet after deeming it violated the company's rules against glorifying violence. Facebook refused to remove the post, so advocates asked for a meeting with the company's top executives.
"It was really not just about the looters and shooters post, but it was also about some other posts around Trump really advancing voter suppression as he made obvious and direct lies on their platform around vote by mail," said Rashad Robinson, the New York-based president of Color of Change, in a Race and Coronavirus podcast. Trump has railed against voting by mail, saying it will hurt Republicans in November. 
Robinson was among the advocacy group leaders who recently talked with Facebook CEO Mark Zuckerberg, Chief Operating Officer Sheryl Sandberg and other company executives. He pointed out that Facebook has been taking down ads containing misinformation and disinformation about the coronavirus.
"When the platform actually cares about misinformation and disinformation, particularly when it doesn't (only) impact Black people, they kind of can mobilize all sorts of forces to actually deal with it," Robinson said. "But when it came to voter suppression … it seemed that the platform became incredibly impotent in being able to do anything about holding him accountable."
Zuckerberg has said he doesn't want his company to limit politicians' speech or be the "arbiter of truth."
Color of Change, which strives to boost African Americans' political voices, has a long, complicated history with Facebook. In 2018, Facebook's Sandberg apologized for the company's hiring of an opposition research firm to find out whether Color of Change and its other critics had financial ties to billionaire George Soros. The group continues to keep an eye on the tech industry amid the pandemic, during a time when Facebook and other companies have become more powerful and seen their fortunes rise while many other businesses are hurting. 
That's why it's important to keep pressuring the companies to change their policies and rules, Robinson said. He pointed out that Facebook is so impactful because it has more than 2 billion users. "That's more followers than Christianity," he said.
Malkia Devich-Cyril, senior fellow and lead founder of Oakland-based Media Justice, which advocates for justice in media and technology, said that because there is no federally coordinated response to this pandemic, "tech companies are replacing government functions," such as contact tracing, which can rely on phone location data. The danger there: local and state governments are investing taxpayer money in different types of unproven technology, with a patchwork of data-handling procedures that may risk citizens' privacy. 
Robinson is concerned about contact tracing, too: "We will have to constantly ask ourselves who gets to own the data."
Some companies are selling thermal scanners that employers are using to check their workers' temperatures, Devich-Cyril said. The Washington Post reported that the temperature-measuring cameras weren't meant for medical use and don't really work to detect the virus.
"Having a fever, or sweating, that doesn't mean they have coronavirus," she said, adding that for some workers, being deemed to have a warm temperature could mean they wouldn't be able to work and earn money. In addition, other groups such as the Electronic Frontier Foundation say thermal imaging cameras "are still surveillance cameras" and could pave the way for facial recognition even as some of tech's biggest companies are vowing a moratorium on the technology.
Besides adopting facial-recognition moratoriums, tech and other companies are now vowing to diversify their workforces and leadership and are donating to social justice causes. Surely those are signs of progress?
"Tech companies are acting like they haven't been asked to do this for the past several years," Devich-Cyril said. She added that IBM is the only one that's getting out of facial recognition completely, while Microsoft and Amazon are agreeing to short-term moratoriums on selling their facial-recognition technology to police while calling for regulations that they're going to want to have a hand in shaping. 
Meanwhile, Google said it intends to keep selling its technology to police departments despite being urged by more than 1,650 of its employees to stop doing so.
"You know when there's a school shooting … and people say 'thoughts and prayers'?" Robinson asked. "A lot of this does feel like thoughts and prayers. Some of the 'Black Lives Matter' sort of posts feel like thoughts and prayers."
---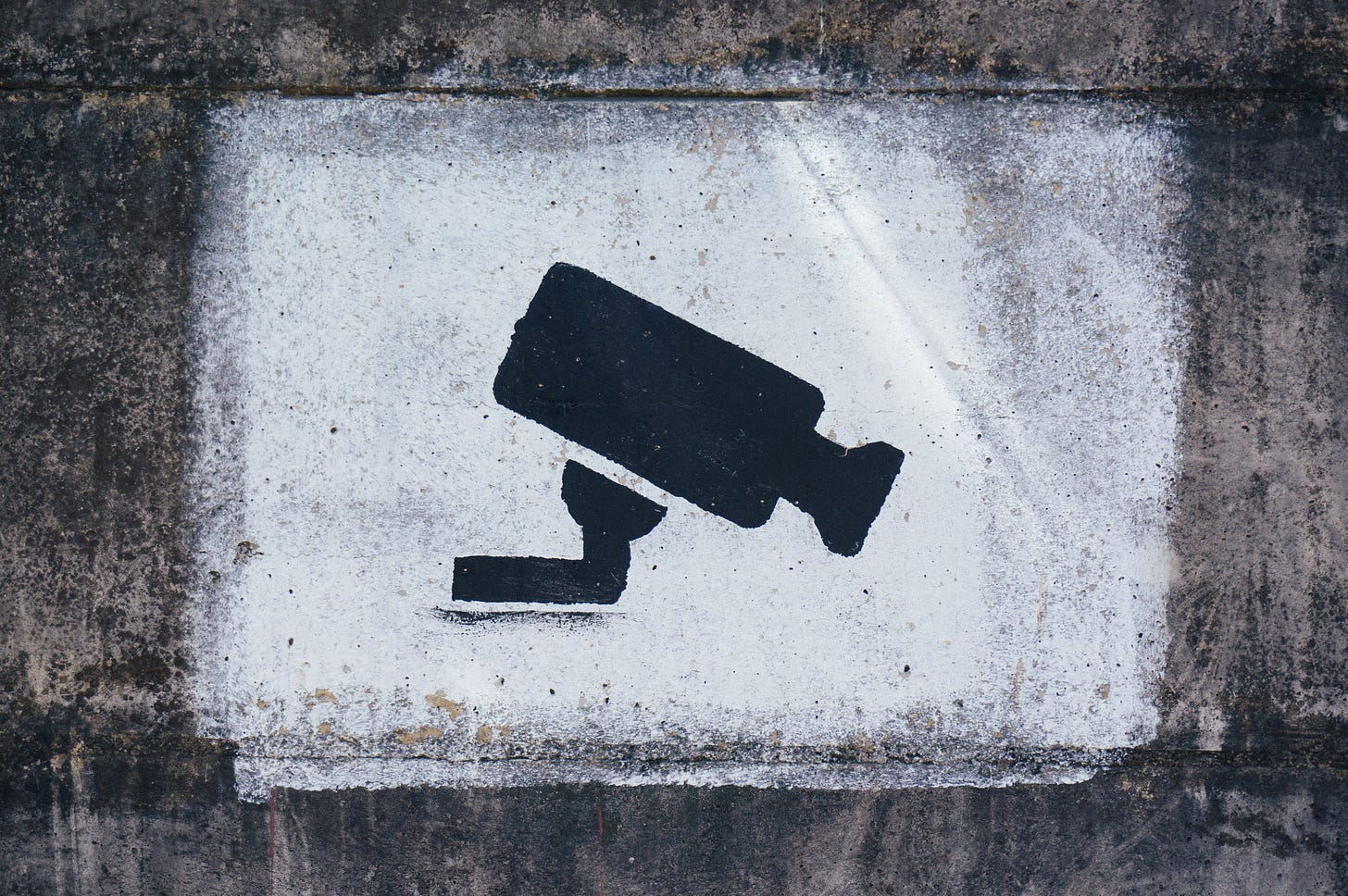 (Tobias Tullius/Unsplash)
Quoted: on tech and surveillance in the time of protests and the coronavirus
"Every time there's a protest now, whether it's in Baltimore, whether it's in Portland, whether it's in Austin … there's a plane in the sky keeping an eye on us, and even if it's not, there's an eye in our pocket that we paid for that's keeping an eye on us. These technologies are forged in the war front but they have a way of moving to the home front. And they're used against the disenfranchised, they're used against the people with the least, they're used against vulnerable minorities and then they're used against everyone. Even if you feel like this doesn't affect you personally, it does, and it will, in time. The pandemic will eventually recede, we do inevitably make progress toward a more just society on the backs of people that sacrificed their lives to win it for us. But the rights we lose to every emergency law that passes because we are afraid, we never get those back. Pandemic recedes, but the tide of rights, that recedes, too."
— Edward Snowden, the former CIA contractor turned whistleblower who leaked details of U.S. intelligence agencies' massive internet and phone surveillance, on a livestreamed panel on June 23 titled "Surveillance Pandemic," which was organized by Mijente, a Latinx civil rights advocacy group whose campaigns include #NoTechforICE and #FueraTrump. Snowden, who at times appeared to be appealing to the consciences of tech and other employees who might have tuned in, also said, "All work is political work," and "When we think about who has the most influence over what laws get written, what laws get passed, I think we need to seriously consider that it's perhaps government that's becoming an arm of the corporation."
---
Follow-ups
Administration extends restrictions on visa programs
By Pati Navalta
Just as immigration advocates feared — and predicted — President Donald Trump has extended restrictions on visa programs beyond the 60 days outlined in the immigration proclamation he signed in April until at least the end of the year.
These programs include the L-1 visa, which enables companies to transfer employees from overseas offices to America, and the H-1B program, which allows U.S. companies to employ foreign workers in specialty occupations. The move is just the latest example of how the administration has used the pandemic to further its hard-line stance on immigration.
"When you create these sort of 60-day pauses, what you're essentially doing is giving yourself the opportunity to reauthorize something in 60 days," Alida Garcia, vice president of advocacy for FWD.us, said in a Race and Coronavirus podcast in May.
The new limitations have a direct impact on Silicon Valley, where many tech companies rely on the visa programs to bring in thousands of skilled workers. More than 85,000 immigrants get H-1B visas for skilled workers annually, including more than 1,000 visas each issued for workers at Google and Amazon, according to a report in Vox.
"Immigration has contributed immensely to America's economic success, making it a global leader in tech, and also Google the company it is today," Google CEO Sundar Pichai said on Twitter in reaction to the announcement. The new restrictions take effect June 24.
Trump uses racist term for COVID-19 at rally — again
By Pati Navalta
During his recent rally in Tulsa, Oklahoma, President Trump used the racist term "kung flu" to describe the coronavirus pandemic, which has claimed the lives of more than 100,000 in America. White House press secretary Kayleigh McEnany defended the use of the term during a recent news briefing, claiming it wasn't directed toward Asian Americans, but rather an indictment of China for "letting the virus get here."
A new report shows the president's racist rhetoric further stokes anti-Asian sentiment in the country: According to Stop AAPI Hate, which aggregates incidents against Asian Americans during the pandemic, there was a spike of incidents reported to the website after Trump repeatedly employed the term "Chinese Virus."
"President (Donald) Trump insists on calling it the Chinese virus … with social media and memes, it really shapes people's subconscious," Russell Jeung, head of Asian American Studies at San Francisco State, told Race and Coronavirus in May.
In response to this latest offense, Stop AAPI Hate released the following statement: "President Trump has a long history of encouraging white nationalist views and rhetoric for political gain and to distract from his own mishandling of the pandemic. The consequences of his rhetoric have been devastating for Asian Americans — thousands have reported acts of hate and violence and millions more are afraid. We demand the president stops using dangerous, racialized language that serves only to result in the suffering of Asian Americans, people he's supposed to protect."
---
Coming up
We discuss the effects of the pandemic on education with Elisha Smith Arrillaga, executive director of The Education Trust-West, and Cole Margen, an Oakland High School teacher.
---
Let us know what you think: editors@raceandcoronavirus.com. 
For business and media inquiries, email info@raceandcoronavirus.com.
Follow us on Twitter, Facebook, Instagram or LinkedIn.
Partner of Bay City News Foundation, which publishes free local news at LocalNewsMatters.org.